I am very up front with my Executive coaching clients around the shifts and focus they will make in our coaching partnership.   One of the most common themes that arise from my coaching conversations with clients is the difference between a Manager and a Leader.  The shift in perception that is required for an individual to move from the perspective of Managing to Leading can be summed up as BE-ing vs DO-ing.   When we begin to understand that the questions you have to ask yourself are subtly different, you begin the journey towards BE-ing a Leader.
So the most common reflection I would give my clients is "WHO do you need to BE" rather than 'What' do you need to do? When we move from Transactional decision making to Transformational thinking, we literally transform our conversations and our thinking processes.  The solutions present themselves in a way that creates the space for others to lead and for the Leader to hold the vision and inspire.  My clients reflect back to me that when they ask themselves the 'Who do I need to BE'? question, it takes them to a quieter, values driven place that is responsive rather than reactive.
Lolly Daskal http://www.lollydaskal.com/  summarises as follows: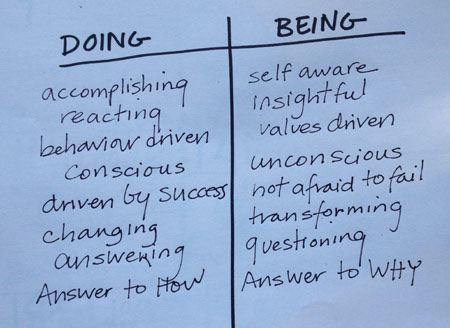 The BE-ing comes from within and taps into our internal resources of WISDOM while the Do-ing is external and is often EGO driven.  The next time you find yourself in a challenging situation, ask yourself the question WHO do I want to BE? and you may find some delightful opportunities open up for you.
Working your way through these processes takes courage!  Be kind to yourself and feel free to contact Patti, if you would like a Coach to partner you on this journey. (Patti offers a no obligation 30minute FREE phone coaching session to get you started).